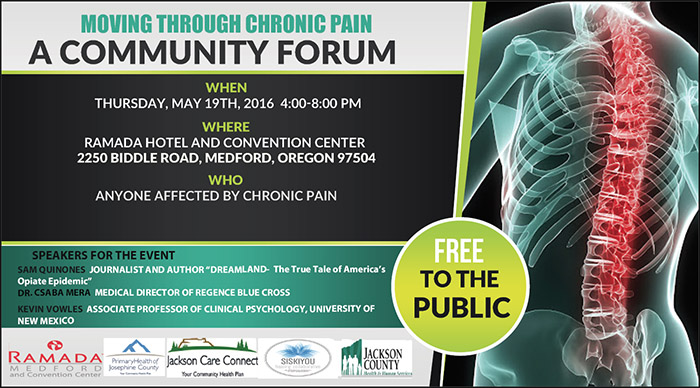 LEARN HOW TO LIVE BETTER WITH CHRONIC PAIN
Southern Oregon is has a crisis of drug abuse! Our community has one of the highest use of opioid medication in the nation. Tragically, the use of heroin has increased dramatically in the last two years. People continue to die of drug overdoses.
Pain medications can help manage chronic pain, if used safely. But we now know that many alternative/complementary treatments are just as effective, safer, and can help improve your life.
Come to our Community Forum!
Famous journalist Sam Quinones talks about his book "Dreamland" – how the US drug companies and the Mexican heroin drug trade has contributed to America's epidemic of opioid and heroin abuse.
Csaba Mera and Dr. Kevin Vowles give talks on the nature of chronic pain, complementary/alternative non-opioid treatments, and how you can live a more meaningful life along side your chronic pain"
Attend the Health Fair
We have booths and raffles prizes. Learn how Sleep, Nutrition, Education, Movement, and Medications are all part of how to manage your pain better and live a better life.
Listen to our speakers, visit with the vendors, and enjoy a delicious dinner.